John Roque is a technical analyst who I've admired since early in my career.
From the bottom of my heart, it was guys like him who inspired me to analyze the behavior of markets and do it in a way that is unique to me.
On the sell side, John was consistently ranked among the top analysts before joining the buy side, including Soros Fund Management.
I've always enjoyed his comparisons between the markets and sports, and I was thrilled when he recently joined FinTwit under the handle, @daChartLife.
In this recent conversation I had with him, we discuss everything from Ted Williams to corn futures.
He gives us his thoughts on gold, crude oil, interest rates and the combined market caps of the financial and technology sectors.
This was a real honor for me to get to interview one of my favorite technicians on the Street. I hope you enjoy it!
Click here to listen right now.
Japan Breaks to New Lows
Before we sign off here for the weekend — I say "here" because I'll still be ripping through thousands of charts over the long weekend — I want to share one chart from my colleague Tom Bruni, of the Japan ETF (NYSEArca: EWJ) relative to the S&P 500 (NYSEArca: SPY).
The chart shows prices resolving a multi-year range to the downside in mid-2018, quickly meeting our first downside objective, and then consolidating in a classical "bear flag" pattern.
Its downward-sloping 200-day has finally caught down and prices are now resuming lower with momentum quickly getting oversold again.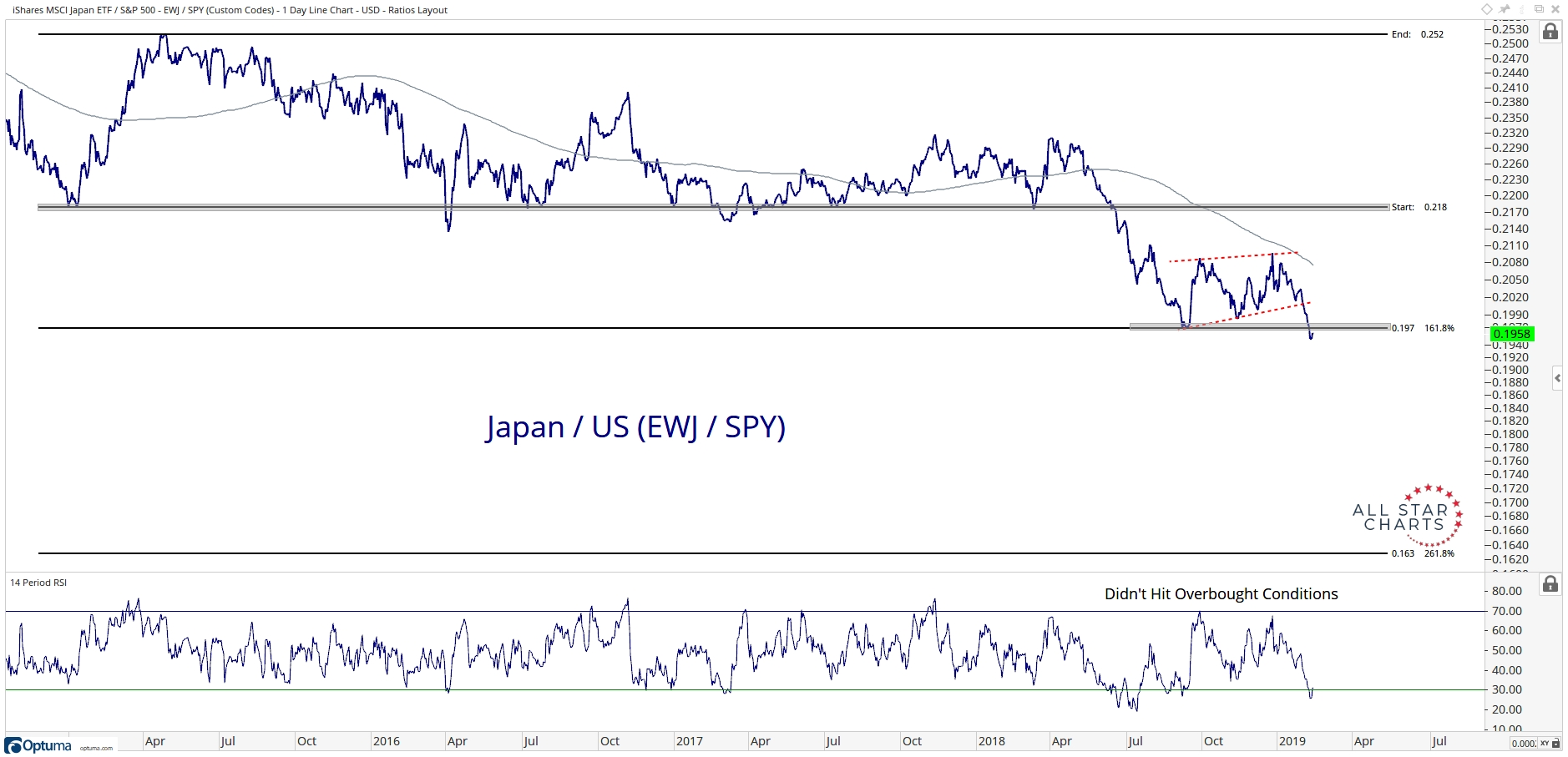 This looks like a very clear chart with all of the evidence suggesting lower prices are ahead.
From a risk-management perspective, we can use our initial target of the 161.8% extension as our new risk-management level, targeting the 261.8% extension over the intermediate and long term.
Japan isn't the only developed market that's at or near new lows relative to the S&P 500.
While some outliers have bucked the trend, when looking at the group as a whole we see that these multiyear trends of under-performance are very strong and there continues to be little evidence of them reversing anytime soon.
Calling tops and bottoms are not our thing, so instead, we'll use these new breakdowns to define our risk on the short side if executing these pair trades, or we'll continue to use it as information to identify fund flows.
Money flows to where it's treated best, and most developed markets ex-U.S. and Canada have not been kind to it for a very long time.
To wise trading,
J.C. Parets
Editor, Big Market Trends