About five weeks ago, as equity indexes were approaching fresh new highs, we talked about divergences in breadth and momentum. We've also discussed intermarket relationships that added to the mixed near-term signals we were seeing around the globe.
I compared the environment for U.S. stocks as of April 24 to where Indian stocks were in late March. The stage was certainly set… but the relevant divergences needed price confirmation before they become actionable.
We were looking for small and micro caps to outperform, for example, as a spark that would drive demand to finally overcome all the overhead supply at current resistance levels.
On the other hand, large caps might fail at their all-time highs, prices rolling over into another failure…
What we noted on May 10 and what we've seen since confirms the latter scenario. Here's what I wrote three weeks ago:
Until more of these indexes break back above those former highs, the tape is likely to be a lot choppier, with failed moves in both directions. But we should also remember that this comes within the context of a constructive long-term picture for equities.
If we're below those 2018 highs in the U.S. indexes, near-term risks remain elevated. "Cash" is a position, and we can err on the long side by looking for stocks and sectors that are staying above their own key levels.
There have been some great pitches over the last five months. There are fewer today. But there's nothing wrong with sitting back and waiting for the right opportunities to develop…
Does it make sense for the price of an asset to move more than 1% from one day to the next, sometimes multiple times a week and multiple weeks in a month?
According to academics, markets are efficient. What we see with our eyes tells us, "Markets are not efficient."
But, as I highlight in the inaugural issue of my new monthly service, Off the Charts, inefficient markets create opportunities – and that makes me happy. And I want to share what I know about identifying inefficiencies with you.
As market participants, so we must take advantage of inefficiencies – whether the market is rising or falling.
I spent a lot of time on Wall Street, so I know from experience these opportunities present themselves constantly. All we have to do is know where to look for them…
Chart of the Week
This one is in honor of my wedding, and it comes courtesy of my co-Best Men.
It's the first "Best Man" speech I've seen use a chart of the S&P 500 Index to describe a relationship. Morgan and I were both impressed! Logarithmic scale… nice touch…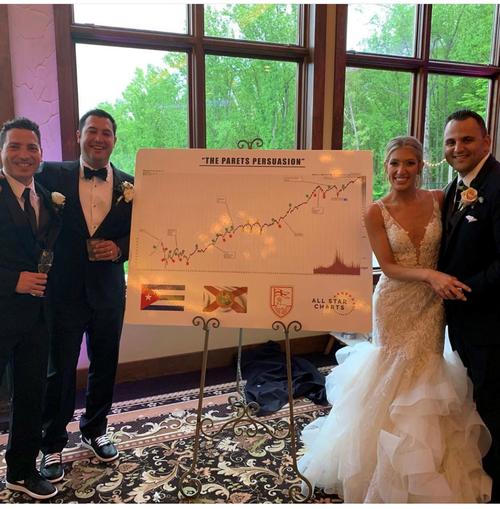 And this "ode" by Phil Huber is great:
To have and to hold
From this day forward
For long or for short
Through resistance and support
In bottoms and in tops
Til trends do us part
Have a nice weekend, everybody.
To good trading,
J.C. Parets
Editor, Big Market Trends