The churn beneath overhead supply continues for U.S. stocks. They failed up here in January 2018, again in October, and once more this quarter. It's clear that demand has yet to absorb all of that supply.
Time may still the best remedy, as we've been discussing a lot lately. On Monday, I noted that "cash has been working since the beginning of the fourth quarter of 2018. Cash continues to work, if you let it.
At the same time, we can still identify leaders at the country level.
And we can even name names at the stock level. Indeed, as I note in the inaugural issue of my new monthly service, Off the Charts, "Markets are not efficient."
Inefficient markets create opportunities – and that makes me happy. And I want to share what I know about identifying inefficiencies with you.
As market participants, so we have to take advantage of inefficiencies. And I spent a lot of time on Wall Street, so I know from experience these opportunities present themselves constantly.
All we have to do is know where to look for them…
I've got one stock right now with as much as 90% upside from its current levels.
And consider India at the country level. Its recent rally has reaccelerated its trend of outperformance relative to the rest of the emerging market space.
Let's look at two charts to track this trend and another to explain why it's happening…
Up fist is a chart depicting the ratio of the equally weighted BRICKS relative to the equally weighted BRICKS excluding India. The "BRICKS" are Brazil, Russia, India, China, (South) Korea, and South Africa.
This indicator broke out in mid-2018 and quickly met the first upside price objective we identified: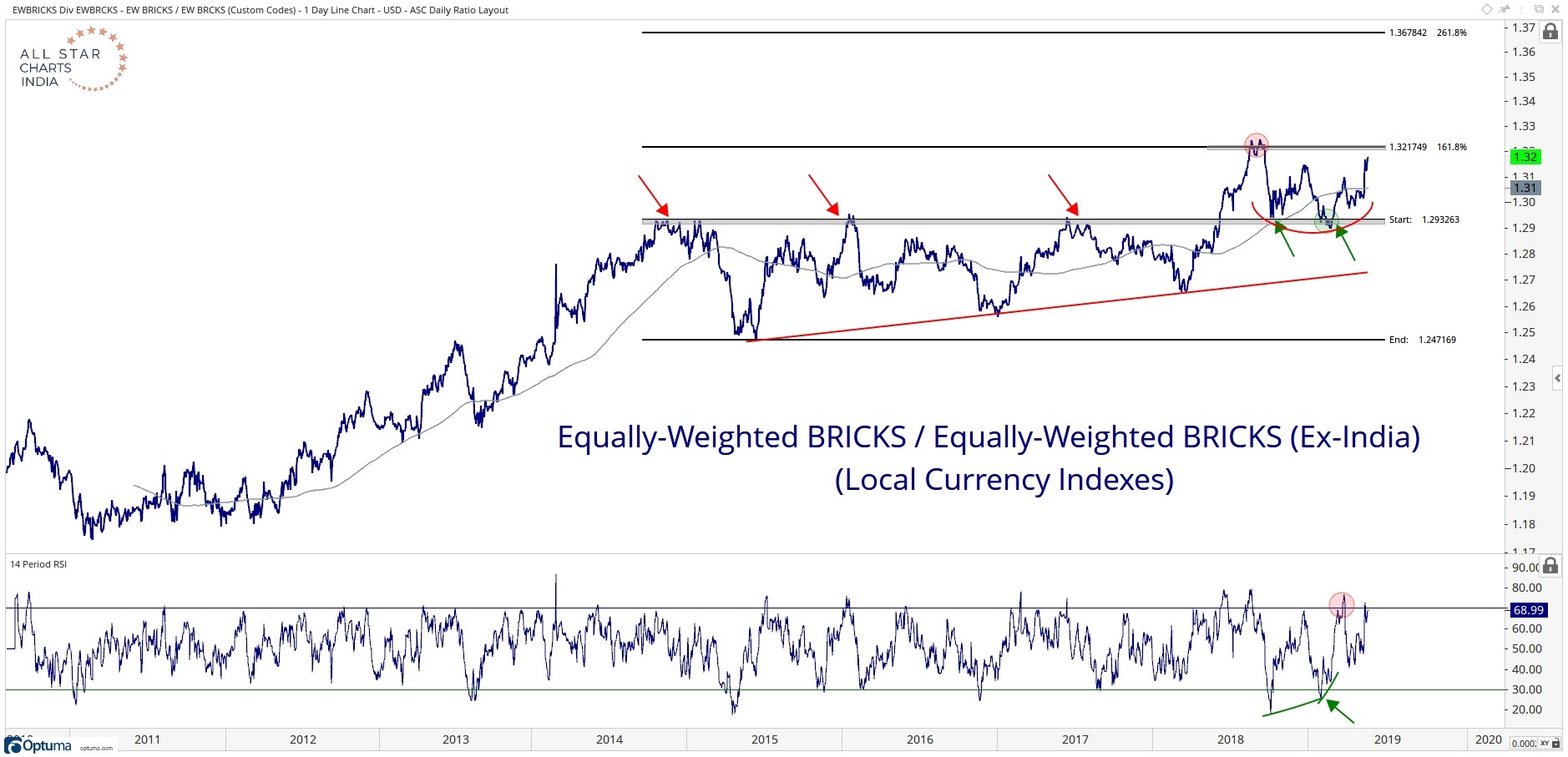 Since then, prices have been basing above support and are now accelerating to nine-month highs, suggesting this corrective period is likely over and a move to new highs is coming.
From a U.S. exchange-traded fund (ETF) perspective, we track this ratio through the iShares India 50 ETF (Nasdaq: INDY) relative to the iShares MSCI Emerging Markets ETF (NYSEArca: EEM).
After nearly four years of consolidation and several failed attempts, this price has successfully broken out to new highs and begun a new, cyclical uptrend: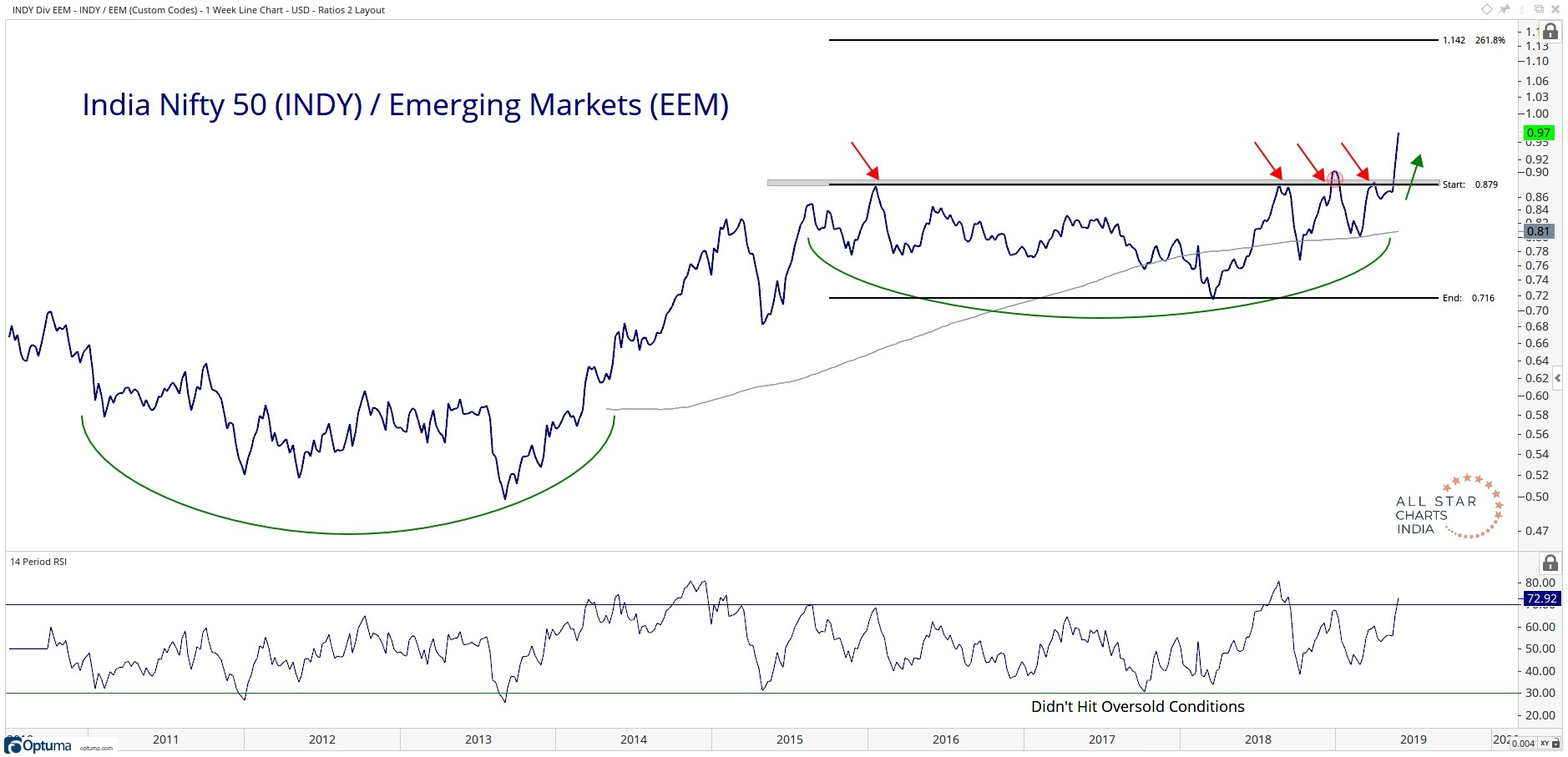 Both charts suggest that any weakness should be seen as an attractive buying opportunity, as long as prices don't break back below their respective risk-management levels.
One of the main factors driving this outperformance is the concentration of India's stock market.
We've seen drastic outperformance from large caps, which are hitting new all-time highs. At the same time, small caps are sitting more than 45% below their all-time highs they set in early 2018.
Here's a chart of an equally weighted index of the 10 largest Indian stocks. It's making new all-time highs and remains in a clear uptrend.
If this custom index is trending higher, it's going to be difficult for the broader market, particularly the large cap indexes, to break down.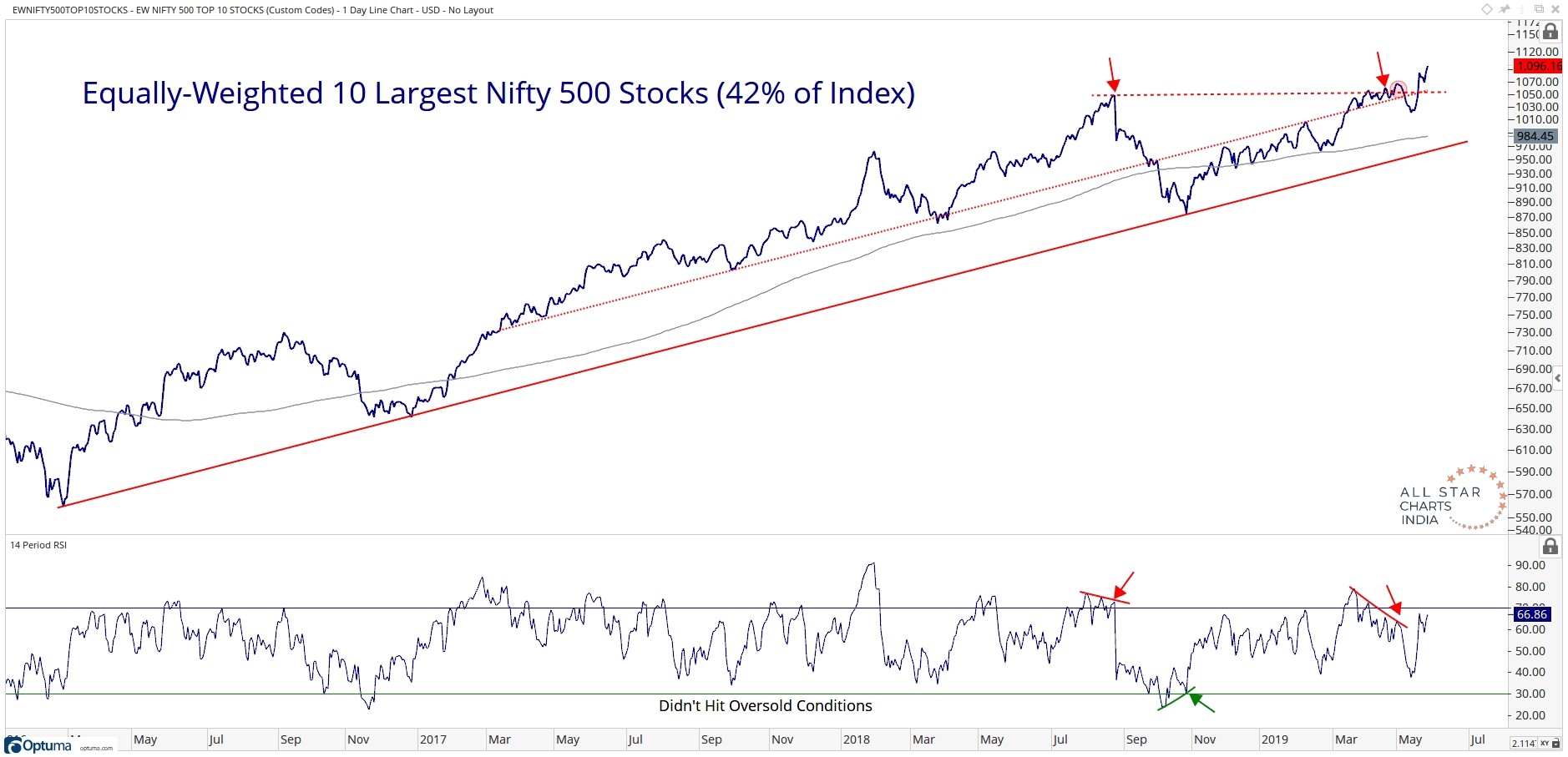 We saw this theme show up at the end of the first quarter, where the financial services sector grew to a third of the Nifty 500's weighting and the largest 10 stocks grew from 40% to 42%.
The bottom line is India's outperformance looks like it's here to stay, at least relative to the rest of the emerging market's space.
Relative outperformance, mispricing, mispositioning… these are inefficiencies we like to see and share and profit from…
To good trading,
J.C. Parets
Editor, Big Market Trends