I want to talk some more about "overhead supply." We hear this term a lot, and we need to understand it.
I'll tell you what it means to me. When I look at today's stock market, I see stocks rallying throughout 2017 and running into resistance – or "more selling than buying" – in January 2018. After some distribution, stocks rallied once again late into the third quarter of 2019, only to fail again; that was a beautiful selloff, one many of us enjoyed very much.
Fast-forward to 2019. We've had a killer rally that's brought us back to where this "overhead supply" party first got started early last year. This is now the third attempt and the third failure for stocks at these levels.
And when I say "stocks," I don't just mean the S&P 500 Index and/or the Dow Jones Industrial Average. I'm referring to stocks as an asset class.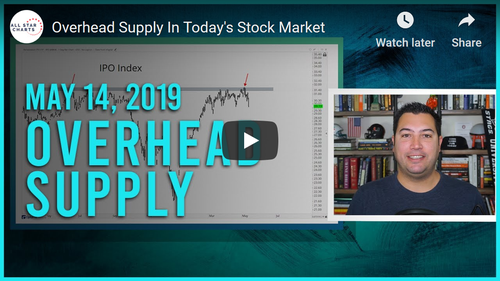 In this video, I try to explain what I mean by pointing out the behavior of the Global 100 Index, the Dow Jones Industrial Average, the Dow Jones Composite Average, the Dow Jones Internet Index, and the U.S. IPO Index. They're all telling similar stories about one thing: "overhead supply."
In the future, when I give educational seminars or speak at universities, I'll bring up these charts as excellent examples of the overhead supply dynamics we see quite often in the market. It's rarely this clear.
(At the 1:20 mark, I meant to say, "More selling relative to buying." My bad, but you get the idea!)
Listen: Why Technical Analysis?
David Zarling is a newly minted Chartered Market Technician. He's a partner and the head of investment strategy and research at Client First Tax and Wealth Advisors, out of Wisconsin.
David and I have gotten to know each other over the years, and I really appreciate all the things he's doing.

In this episode of the podcast, David walks us through his process and how it's evolved throughout his career. He uses technical analysis to help manage money for clients and, most importantly, manage risk.
David talks about why he goes out of his way to get around like-minded individuals to talk about the markets and to find people who'll challenge his thinking.
I also really enjoyed the analogies he uses to explain technical analysis and his process to clients. There's a lot of value here.
Have a great weekend.
To wise investing,
J.C. Parets
Editor, Big Market Trends