All the major indexes are down more than 2% today. With all that red on our screens, it's not easy to think in "constructive" terms. But we must do it.
It's a good idea to pay attention to which stocks are holding up best during days – or weeks – when the major indexes are under pressure. We call this "relative strength." It's evidence of institutional support at a time when other stocks or sectors aren't getting it.
With overhead supply coming in this month near former resistance in the S&P 500 Index and the Dow Jones Industrial Average, insurance stocks broke out on a relative basis to new 11-month highs.
This has our attention. Think of it like a beach ball being held under water: When the pressure's removed, the ball shoots to the sky. That's how to think about stocks showing relative strength.
And we can do something about it.
The chart below shows the ratio of the iShares U.S. Insurance ETF (NYSEArca: IAK) to the SPDR S&P 500 ETF (NYSEArca: SPY). It depicts the performance of the insurance subsector relative to the broad market.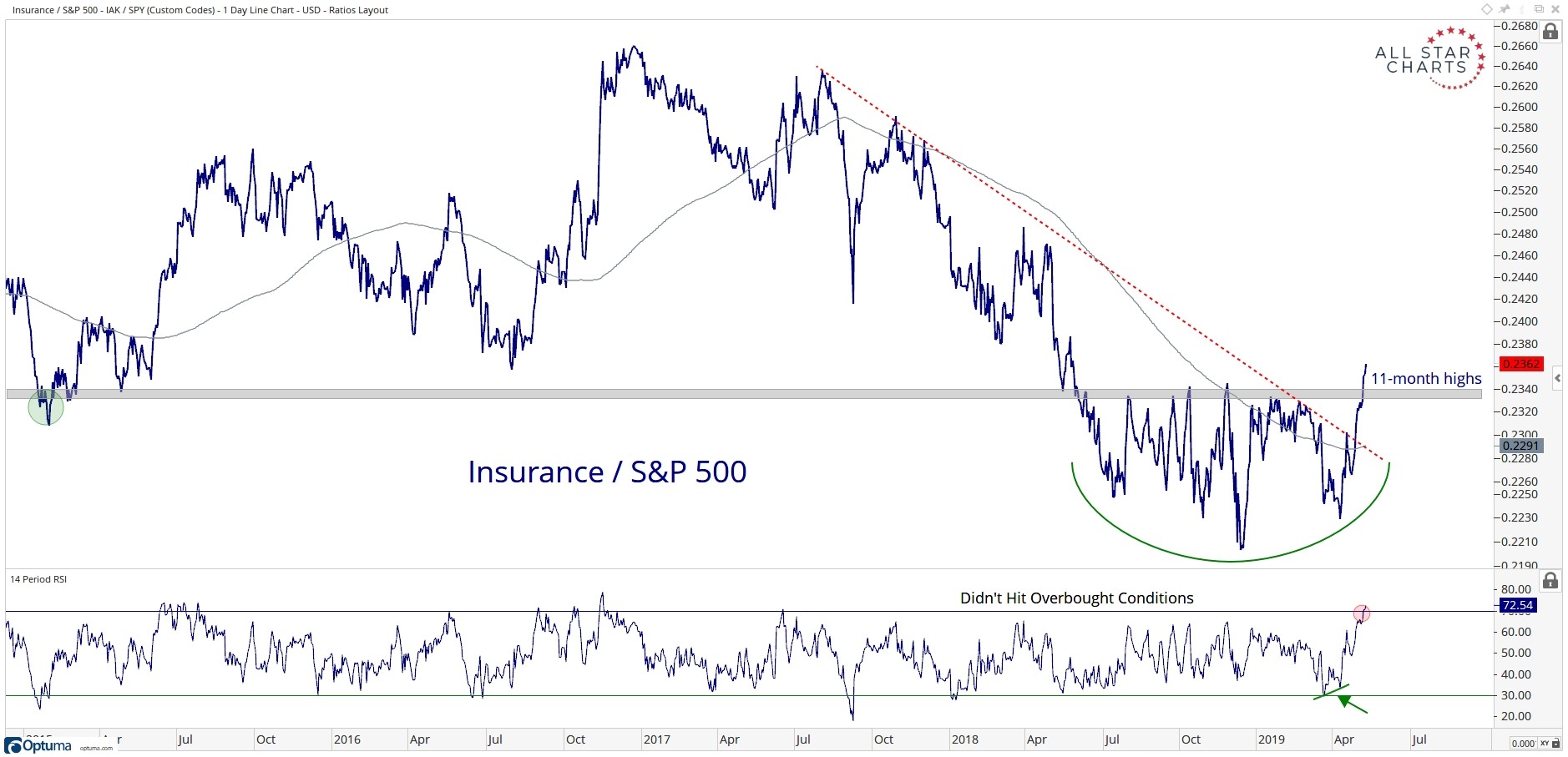 IAK is breaking out to 11-month highs as momentum gets overbought for the first time in nearly two years.
As my colleague Tom Bruni pointed out, this looks like a textbook trend reversal. So, while there may be some backing and filling over the near term, Insurance stocks look set to outperform over the intermediate to long term.
The relative strength is also apparent on the absolute price chart of IAK.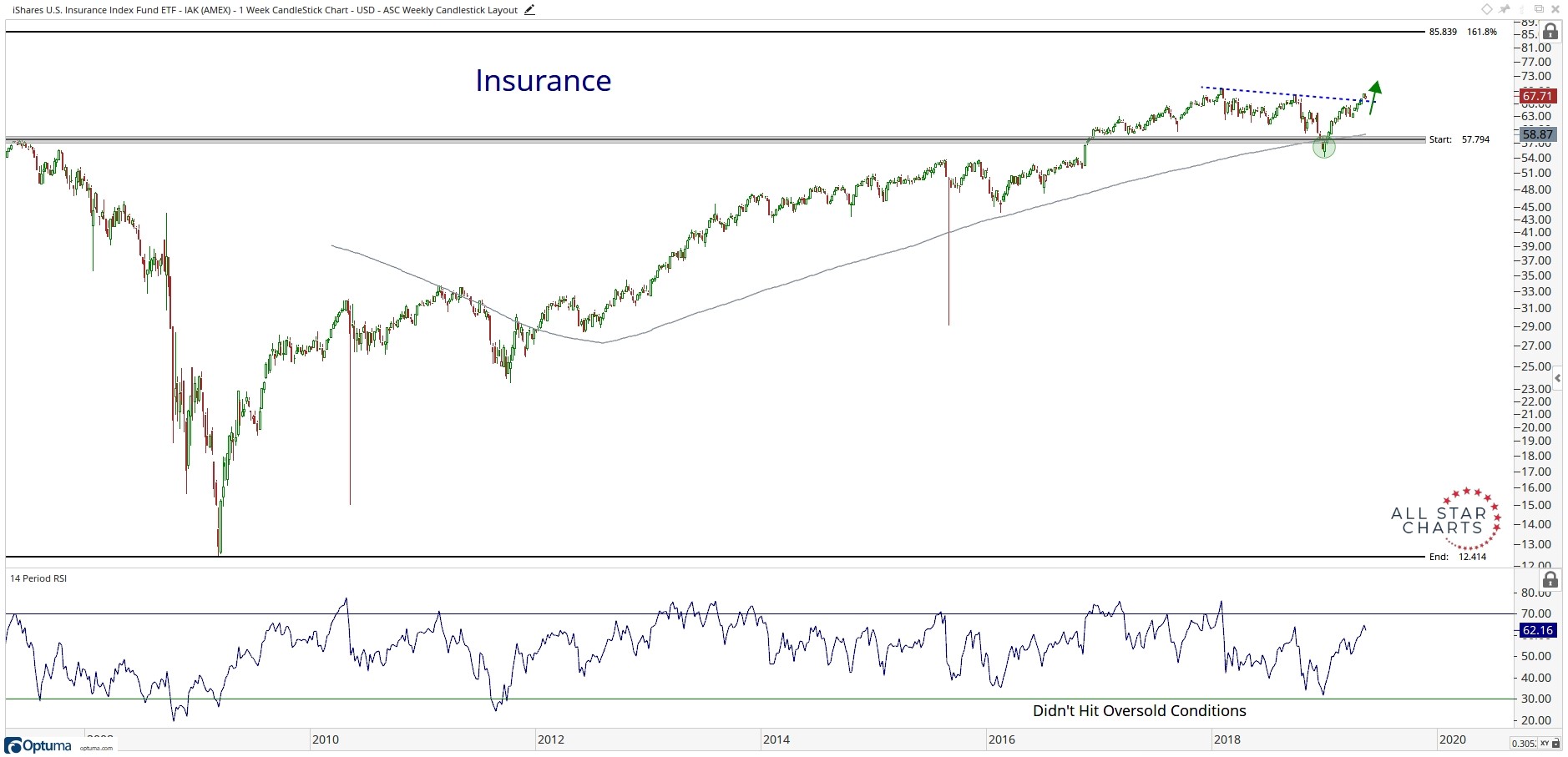 This long-term chart shows a successful retest of its 2007 highs late last year, with momentum staying out of oversold conditions. This contrasts with other Financials subsectors, which struggled with their 2007 highs and are just now beginning to accelerate to the upside.
Given our outlook for a mixed environment at the index level of U.S. stocks, we want to be expressing this thesis through the sector's strongest individual components.
One name that looks poised to head higher is Arch Capital Group (Nasdaq: ACGL).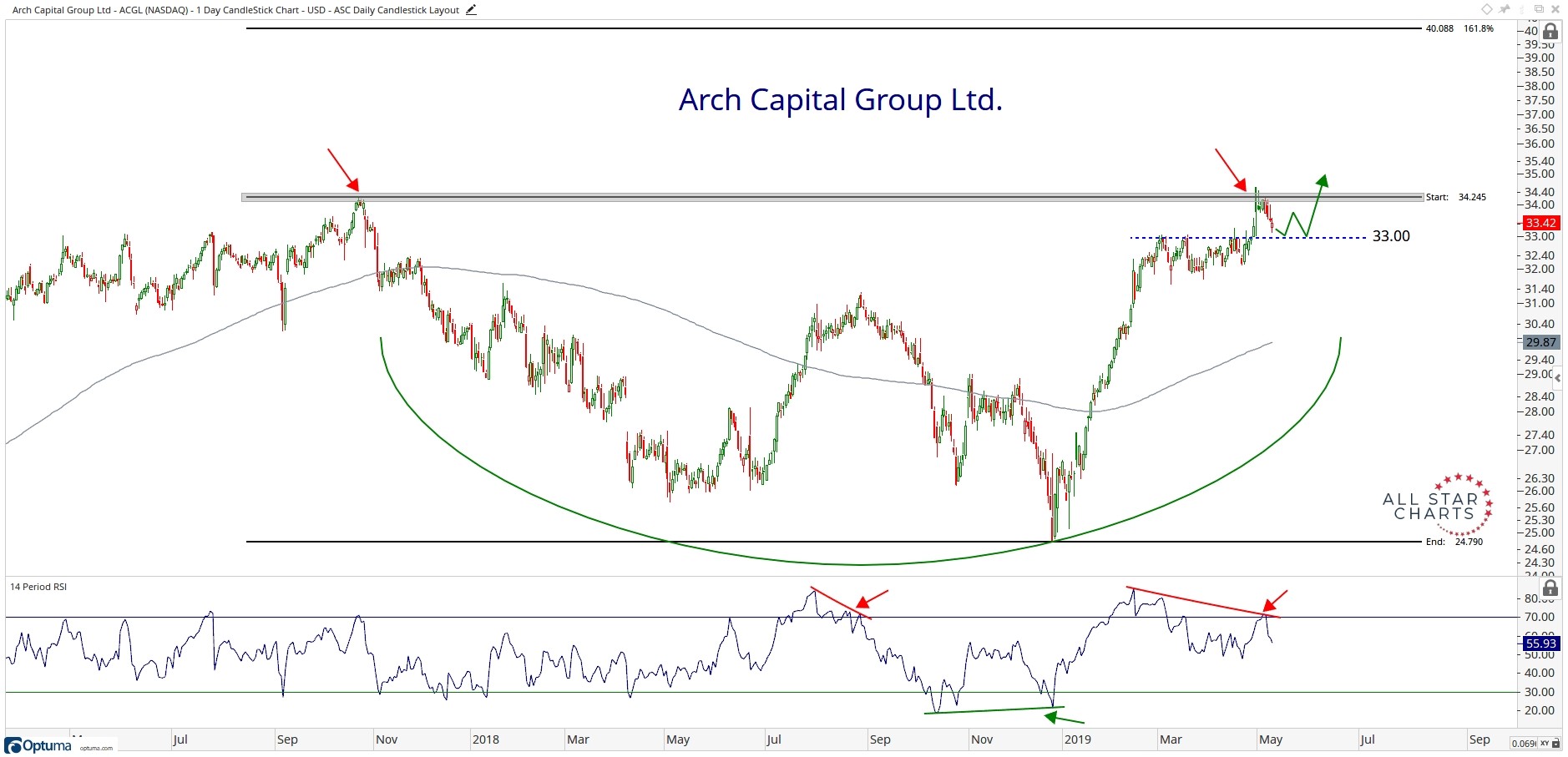 In the near term, ACGL is pulling back from all-time highs as momentum diverges. But if prices can consolidate above $33 and eventually break above $34.25, we can be long with a three-to-six-month target near $40.
There are ways to make money in this market. But you have to be smart about it.
To wise investing,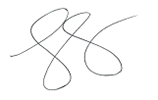 J.C. Parets
Editor, Big Market Trends