The trend is your friend… but what do we do if there is no trend?
For months, we've been talking about mixed signals in the U.S. stock market. That includes strength in defensive sectors and bonds, weakening breadth and momentum, and major averages all over the world failing to break decisively above their 2018 highs.
Prices finally confirmed the divergences and began correcting. So, where does that leave us?
My guys put out some stats in early March looking at where various indexes stood relative to key inflection points, like the S&P 500 Index's tops in January and September and its bottom in December.
We asked a simple question: Are there more indexes above those key highs (uptrends) or below them (sideways, or downtrends)?
Back then, it was clear the majority were still below those key levels.
Today, those same stats show us not much has changed. There may have been some changes around where individual securities included in these stats stand. But, for the most part, equities in the U.S. and around the world are not trending higher.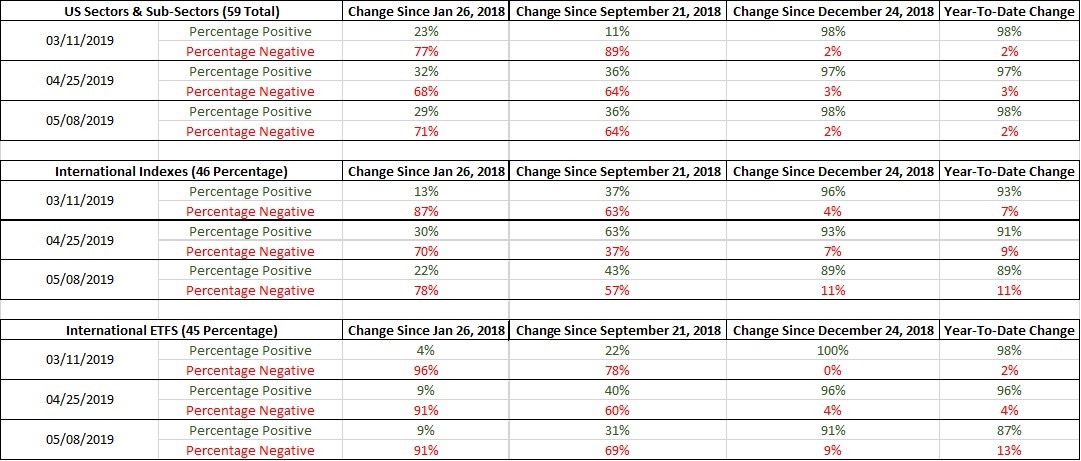 Until more of these indexes break back above those former highs, the tape is likely to be a lot choppier, with failed moves in both directions. But we should also remember that this comes within the context of a constructive long-term picture for equities.
If we're below those 2018 highs in the U.S. indexes, near-term risks remain elevated. "Cash" is a position, and we can err on the long side by looking for stocks and sectors that are staying above their own key levels.
There have been some great pitches over the last five months. There are fewer today. But there's nothing wrong with sitting back and waiting for the right opportunities to develop…
Listen: When Good Friends Meet…
Paul Ciana and I go way back, to 2006, when he and I were studying for the chartered market technician (CMT) exams together. Today, Paul is the Chief FICC Technical Strategist at Bank of America Merrill Lynch Global Research. In English, that means everything outside of equities.
It's nice to see your friends succeed, and watching Paul crush it is definitely one for the good guys.
In this episode of the podcast, we dive deep into the FOREX world. Paul walks us through three important currency pairs that all stock market investors should follow.

We also talk about crude oil and gold and other precious metals. The U.S. dollar is a key focus right now for both Paul and me, so we get into what the implications are for stocks and other assets around the world.
I really enjoyed this conversation. It could have gone on for hours and hours. We're lucky to have Paul come on the podcast. He speaks to the biggest portfolio managers in the world on a daily basis, and he's been doing that for close to a decade and half.
His unique perspective is a huge value-add for sure!
To wise investing,
J.C. Parets
Editor, Big Market Trends