My colleague Tom Bruni pointed out recently that many of the same folks who were happy about Trump's "Trade Deal" tweets when they drove the stock market higher complained as his tweets sent futures lower on Sunday night and again after Tuesday's closing bell.
He also dropped a pretty strong reminder…
First off, you don't give your profits back because prices went up based on a tweet. And you still bear your losses if prices go down based on a tweet. Same goes for volume and all other supplemental indicators to price.
It doesn't matter why prices move. Outside of an exchange error, the quote you'll see in your brokerage account is the same. If your stock falls 10 points, you're still down 10 points. You can't return it with your receipt because you disagree with the outcome.
The market doesn't work like that. Headlines like the ones below cut both ways. Sometimes they're interpreted as a positive by investors, other times a negative.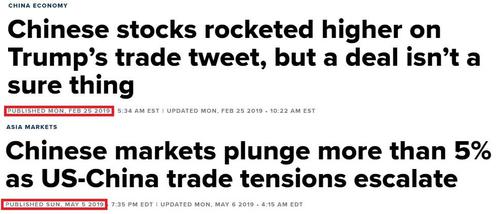 But there's really no such thing as "good" or "bad" news. It's all about "better," "worse," or "in line" relative to expectations.
Whatever the case, we approach them with the same lens as we do all other movements in the market. That's by ignoring the "why" and simply focusing on the "what," and that's "price action."
At the end of the day, our job is to manage risk. How we do that is by paying attention to price levels outlined in our analysis, not by changing our mind with each new piece of market-moving data that emerges.
Last Wednesday, Tom outlined the levels we're watching in the U.S. indexes. Despite all the noise, we're still focusing on those former highs.
That's what we're watching. How about you?
Watch: Inside the Mind of a Freshly Minted Chartered Market Technician
Speaking of Tom Bruni, he's the newest – and likely youngest – Chartered Market Technician (CMT) on working on Wall Street. Yesterday, I sat down with him live from Washington Square Park in New York City.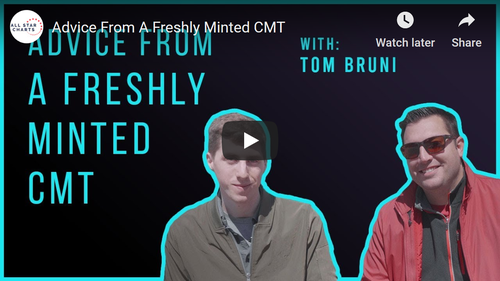 The CMT program is different today than what it was 12 or 13 years ago when I first went through it. I picked Tom's brain about his experience, and he has some solid advice for others thinking about sitting for the exams.
Maybe that's you, maybe that's someone you know… Enjoy it, share it…
To wise investing,
J.C. Parets
Editor, Big Market Trends