A few weeks ago, my colleague Tom Bruni pointed out that shippers, casinos, and some construction/homebuilding stocks were among the weakest areas of the market.
He was curious about what kind of message it would send if those stocks didn't follow through to the downside after breaking down. Checking in on these "shitty" stocks might be a way of understanding the market's overall trend.
Shippers are breaking out above a 15-month downtrend line from their 2018 highs. Prices are back above a downward-sloping 200-day moving average for the first time in about a year. After some slight downside follow-through, prices stabilized and rocketed higher.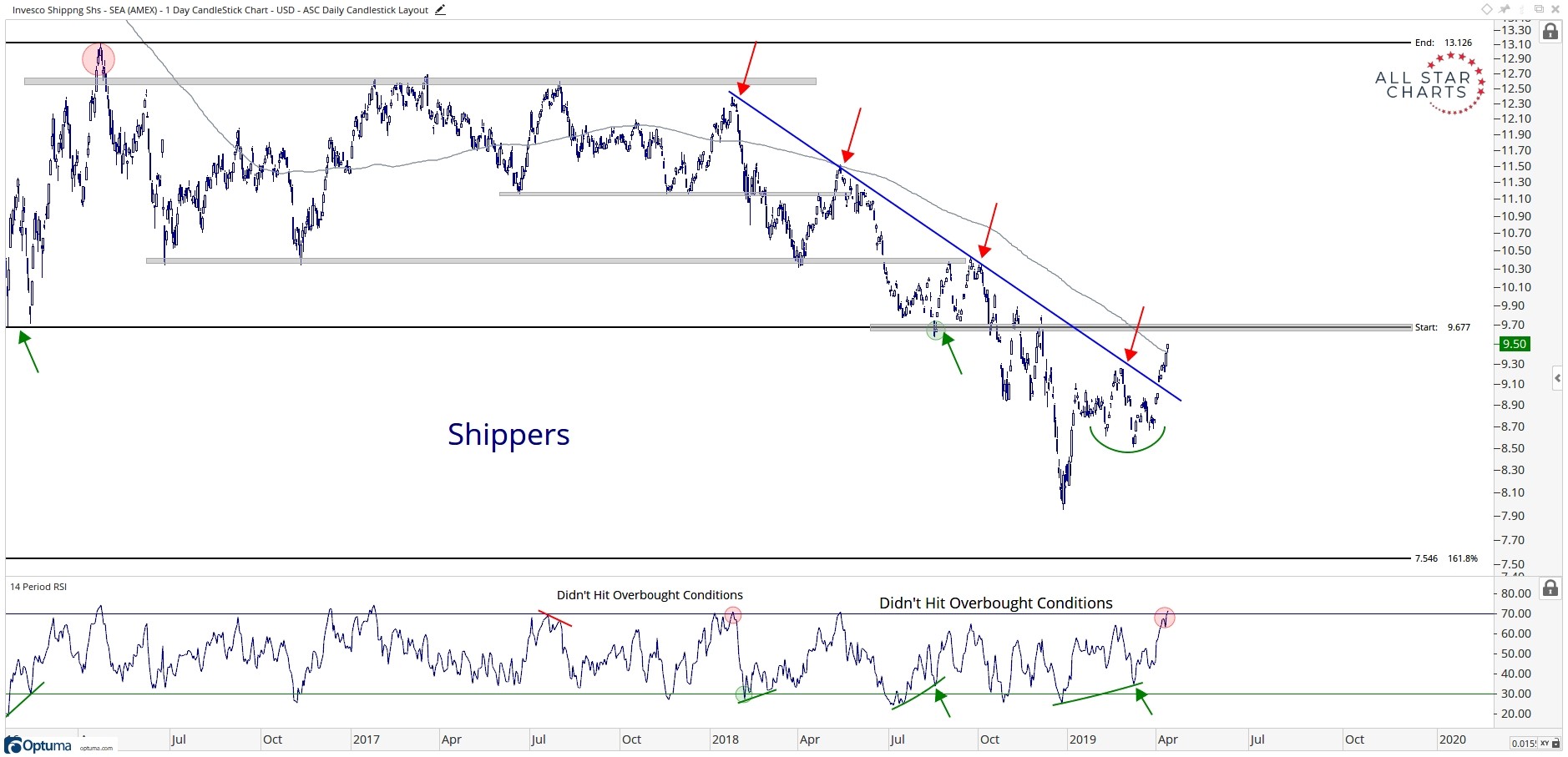 The action is similar in the casinos and gaming space, with prices stabilizing and moving higher; they're now sitting at roughly six-month highs.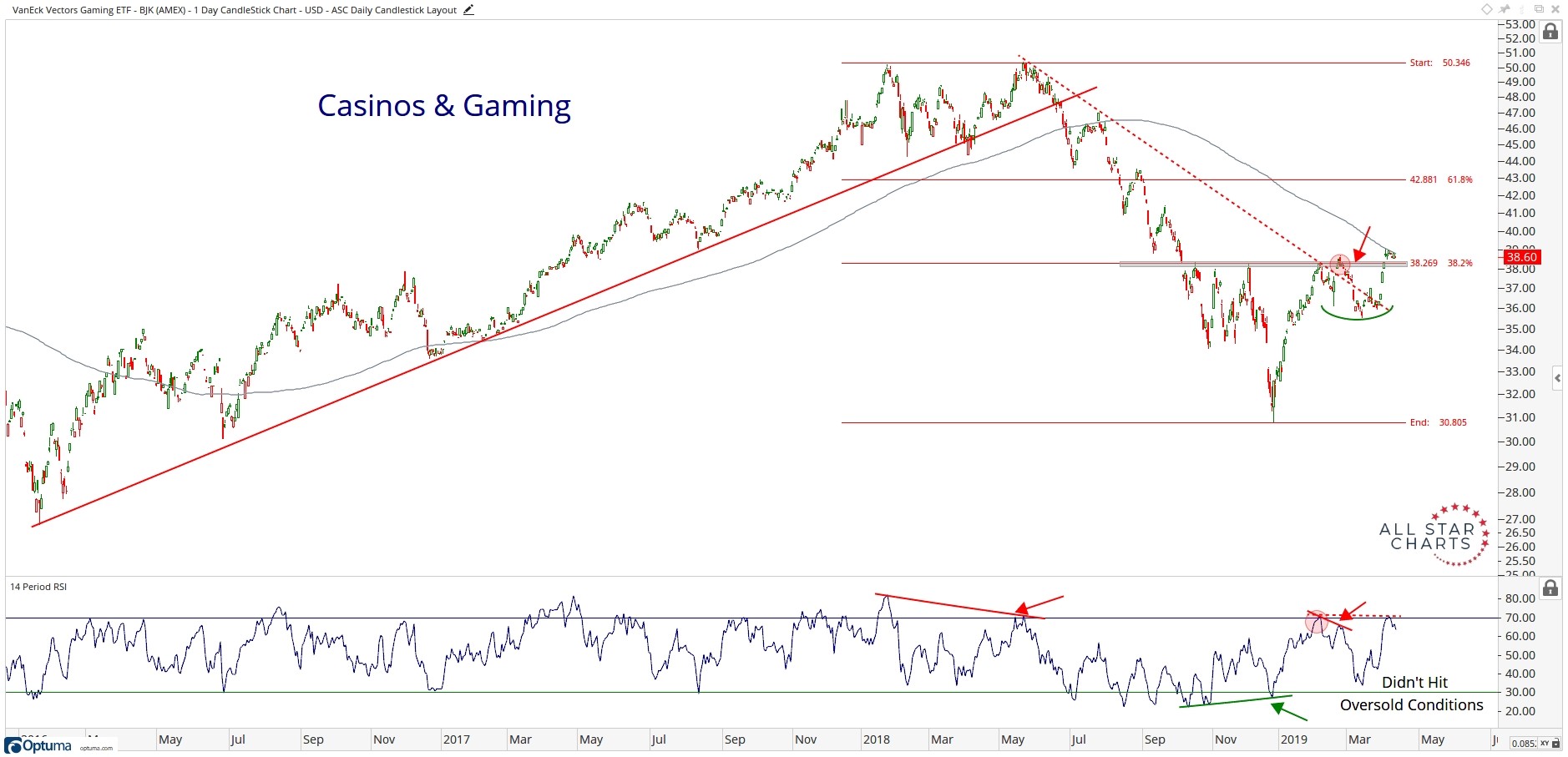 And construction and homebuilding stocks are stabilizing relative to the Consumer Discretionary sector: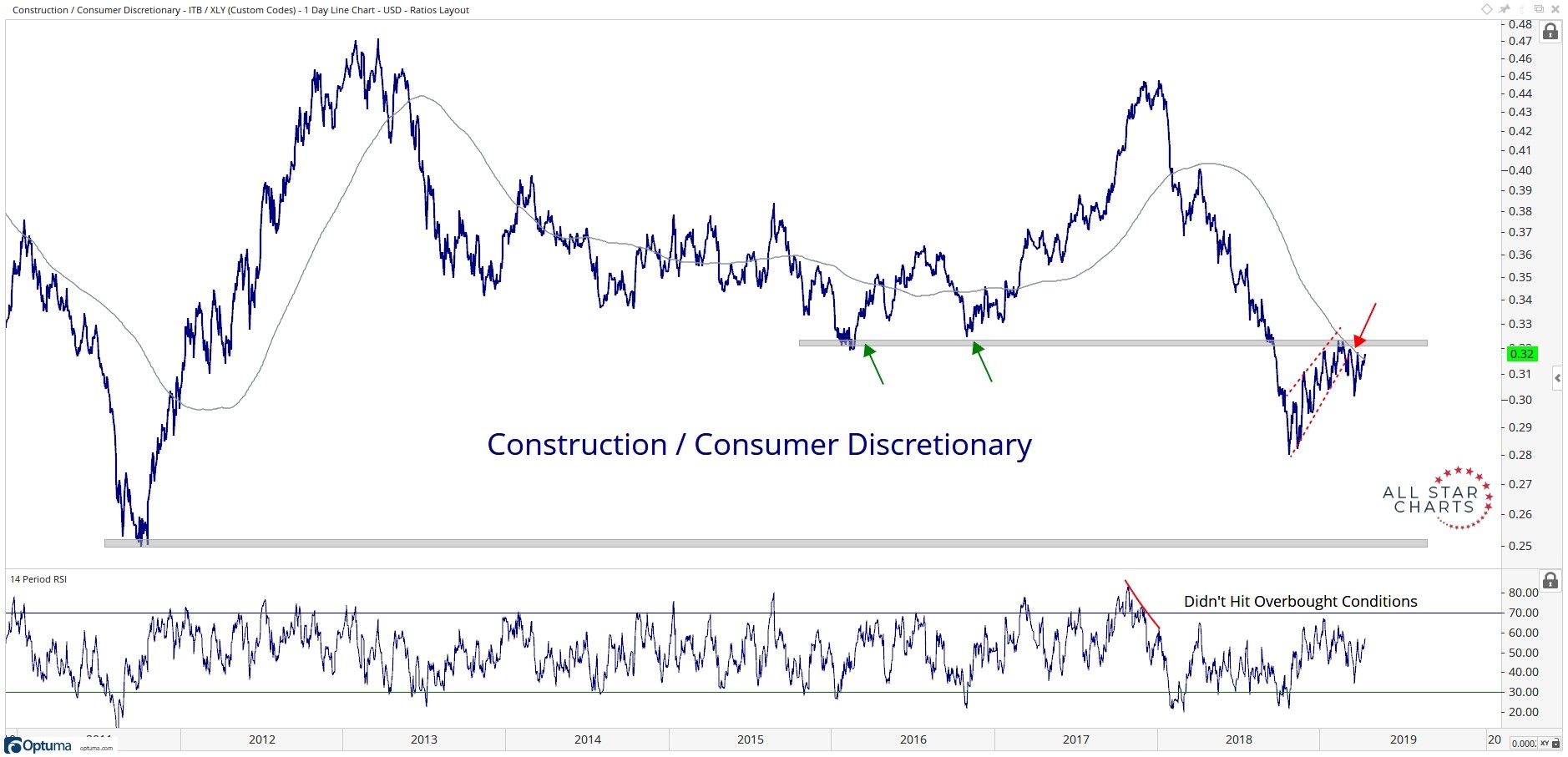 What looked a few weeks like easy "short" setups – "layups," to use a basketball analogy – instead became another turnover by the bears. We've seen potential short setups across international equity exchange-traded funds, major U.S. indexes, multiple sectors and subsectors, and individual stocks all simmer out over the last few weeks.
In many cases, the bias is no longer to the downside. But that doesn't mean it's to the upside. "Neutral" is probably best. But the action is constructive nonetheless and cannot be ignored.
So, what does this mean for the broader market? It depends who you ask.
Bears will say quality stocks have already run aggressively and are extended, so money is flowing into riskier names that are playing catch-up. This means the recent advance in the broader market is likely closer to the end than the beginning.
Bulls will say sector rotation into weaker areas is a sign of improving risk appetite among market participants. It allows extended areas of the market to consolidate and set up for the next leg to the upside. Another way to say it is that corrections "through time" are better than corrections "through price."
The answer to the question, "Which camp is right?" will only be available in hindsight. But, given the corrections through time rather than price in many areas of the market, evidence favors a neutral-bullish approach toward equities right now.
Inflation Talk
This week on Technical Analysis Radio I had the pleasure of chatting with Craig Johnson, Chief Market Technician at Piper Jaffray.
I've known Craig for a long time, and I love the work that he puts out. During the day, he speaks to buy-side clients all over the world. As a past president of the CMT Association, he's surrounded himself with some of the best minds in the history of technical analysis.
His unique perspective based on who he speaks to and his experiences throughout his career make me want to listen when he has something to say. In this conversation, we discuss the rest of the year for U.S. stocks and sectors.
There's a part in this episode where Craig focuses on breadth and what we're both looking for moving forward. Inflation, or lack thereof, is something he's watching, so we talk about gold, oil, and other inflationary factors that could impact stocks and bonds.
We covered a lot. I really enjoyed this one, and I hope you do too!
To wise investing,
J.C. Parets
Editor, Big Market Trends