The market remains a "hot mess," — i.e., sideways range — so we're looking under the surface at breadth and risk appetite indicators to find clues about which direction this 15-month range will resolve itself.
Today I want to look at one of those measures: Consumer discretionary stocks versus consumer staples.
If you're a long-only fund manager that believes the market is headed higher, you're going to be in more aggressive areas of the market like discretionaries; stocks like cars, leisure, and entertainment.
If you believe the market is headed lower or isn't going to do much, you're going to be in the lower beta, often higher-dividend consumer staples stocks. Beer and toilet paper.
So, what's happening in these sectors right now?
The Equal-Weight Consumer Discretionary vs Equal-Weight Consumer Staples ratio continues to struggle with a flat 200-day moving average and a confluence of support/resistance. But it also just made new six-month highs this week.
While there's work for this trend to do to confirm an intermediate-term uptrend, this is extremely constructive action and suggests that risk appetite among market participants is beginning to pick up.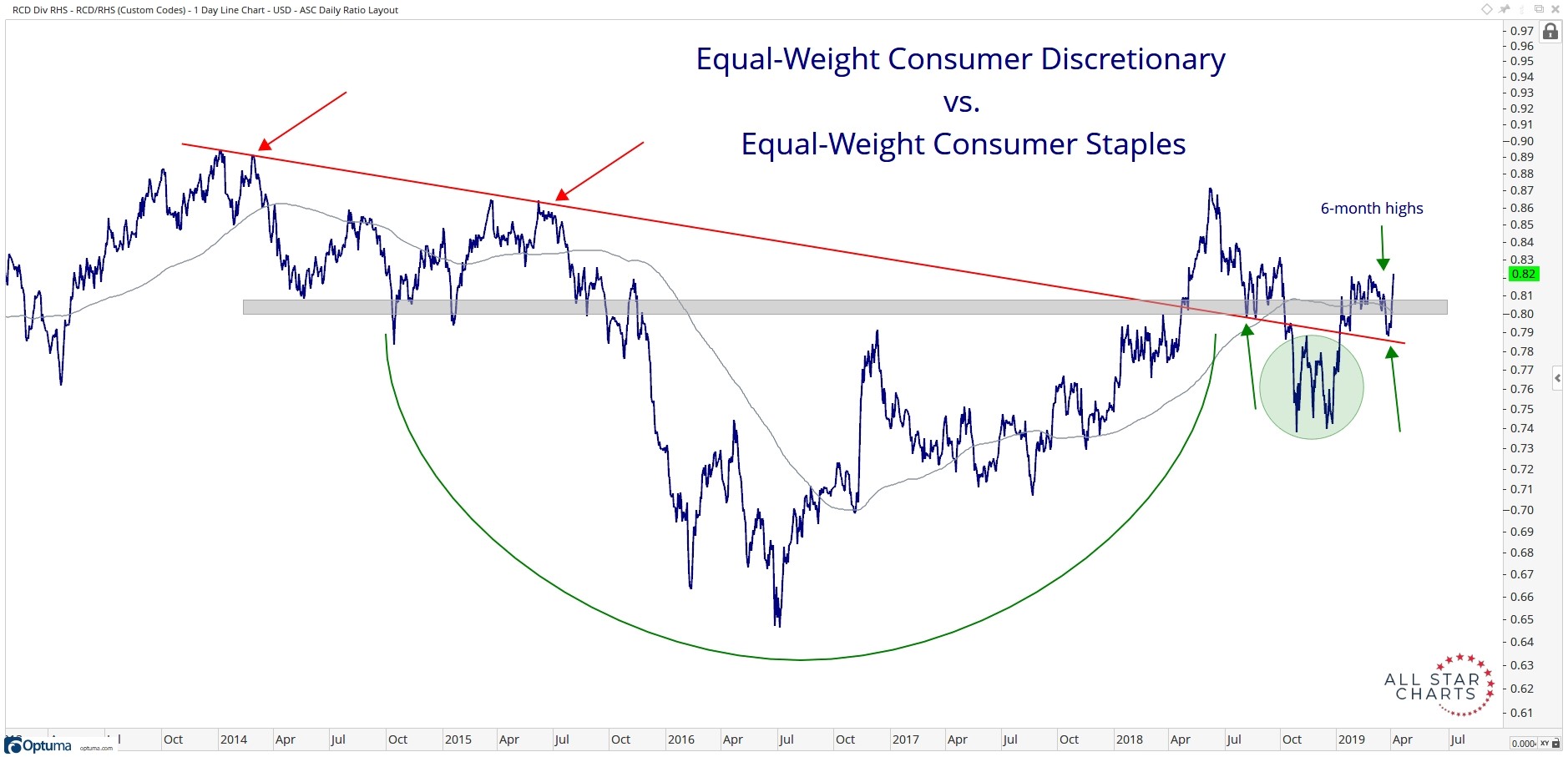 Looking at the Cap-Weighted Consumer Discretionary sector versus the S&P 500, we see a constructive base forming above its 2015 highs.
The 200-day moving average is rising and momentum is in a bullish range as prices approach their former all-time highs.
This is a chart we'd much rather be buying than selling, especially if we break the 2018 highs.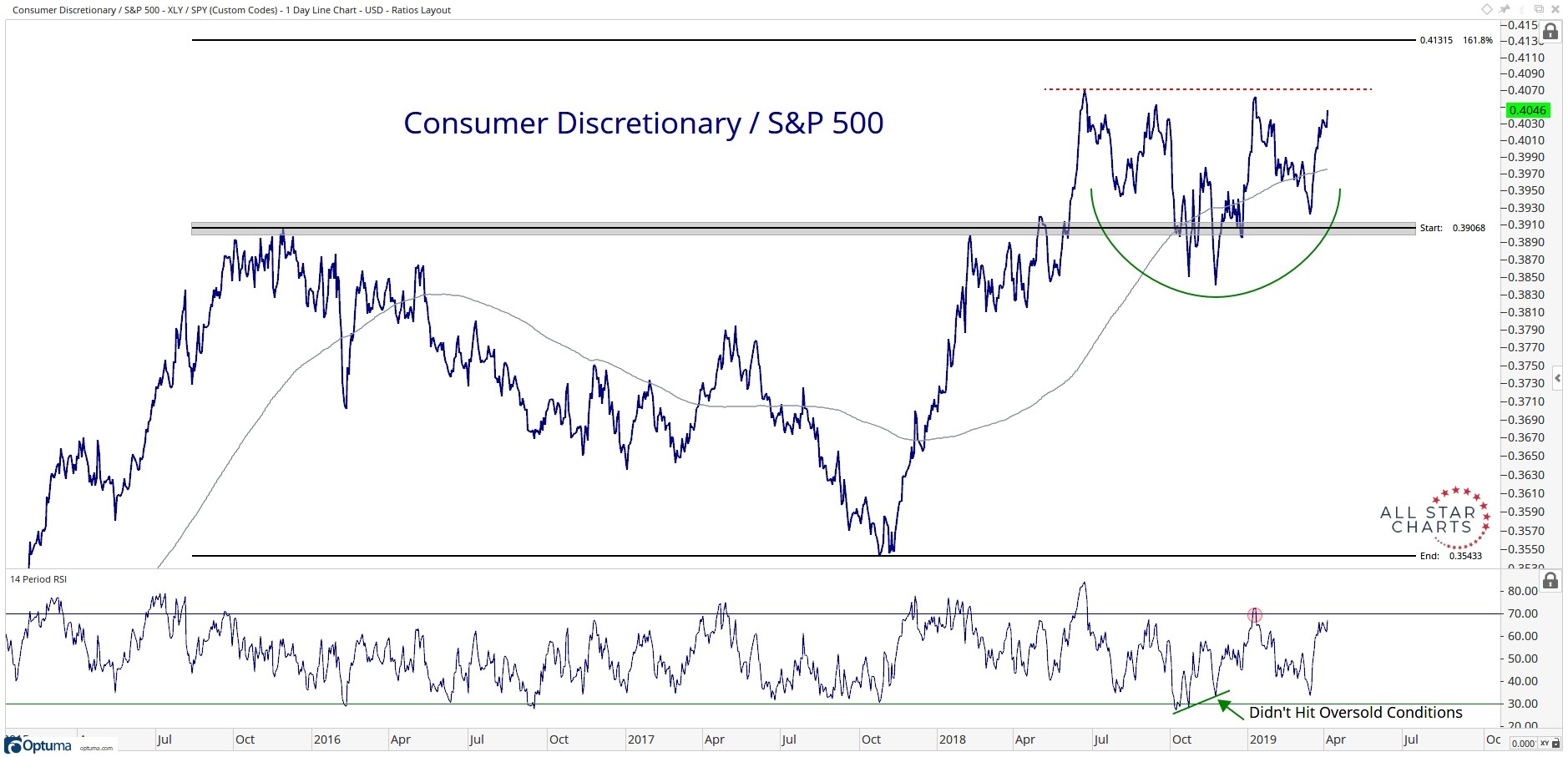 The flip side of that is the Cap-Weighted Consumer Staples versus S&P 500 ratio, which is breaking back below support and making nearly six-month lows.
A major part of the bearish/neutral thesis has been the relative strength in staples, so if a new leg lower in this ratio is unfolding that would be a great sign for risk appetite.
The market continues to correct through time, rather than price.
While we still have concerns over breadth and momentum divergences in the near-term, our bullish long-term outlook for equities as an asset class remains intact.
This strength in consumer discretionary and weakness in staples is one data point in favor of the bulls.
RELATED:A Bullish Base Is Brewing
We need to see more data points like this start to emerge and support the recent price action before we can get more aggressive on the long side, but it'd be irresponsible of us to dismiss these developments outright.
That's why today I sent a new trade recommendation to Breakout Profits subscribers based off this consumer discretionary trend, complete with well-defined risk levels, and buy and target prices.
S&P 3,200?
I've been talking markets with Liz Claman for the better part of the last decade.
Whenever I'm in New York, I like to swing by the Fox studios to say hello.
This week we discussed the relative strength in semiconductors and how I think they will lead stocks and the S&P 500 to new all-time highs.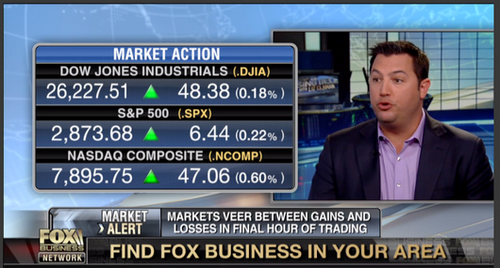 That does it for this week. Have a fantastic weekend.
To wise investing,
J.C. Parets
Editor, Big Market Trends