I'm in New York this week for the annual Chartered Market Technician (CMT) Association Symposium. I always learn so much at this event, not just from the presentations, but from the attendees themselves.
A lot of smart folks in one room is a win for all of us. I've caught up with friends like Rob Passarella and Phil Pearlman while I've been "back east" and it's been a great time.
For part of yesterday, I was also up at the Nasdaq to chat with BBN Bloomberg's Catherine Murray for an interview for Canadian television.
We talked about the S&P 500, my favorite semiconductor names — like Texas Instruments (Nasdaq: TXN), Analog Devices (Nasdaq: ADI), and Broadcom (Nasdaq: AVGO) — where we are in Canadian equities, and why I'd take profits in crude oil right now.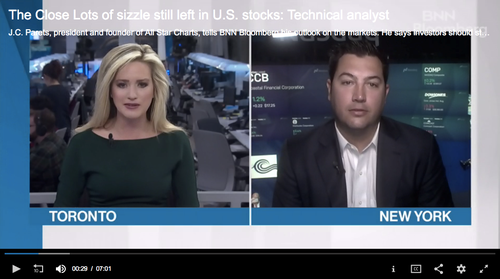 I'll be back to you with more on Friday.
To wise investing,
J.C. Parets
Editor, Big Market Trends