It's been a frustrating period for stocks in Canada over the past decade. Up just 7% since their 2008 highs, Canadian equities have been consistently underperforming for almost 10 years.
But are things now finally changing?
To keep things simple, here's a chart of Canada versus the United States, represented by the TSX Composite Index and S&P 500, respectively. The trend is down, a lot.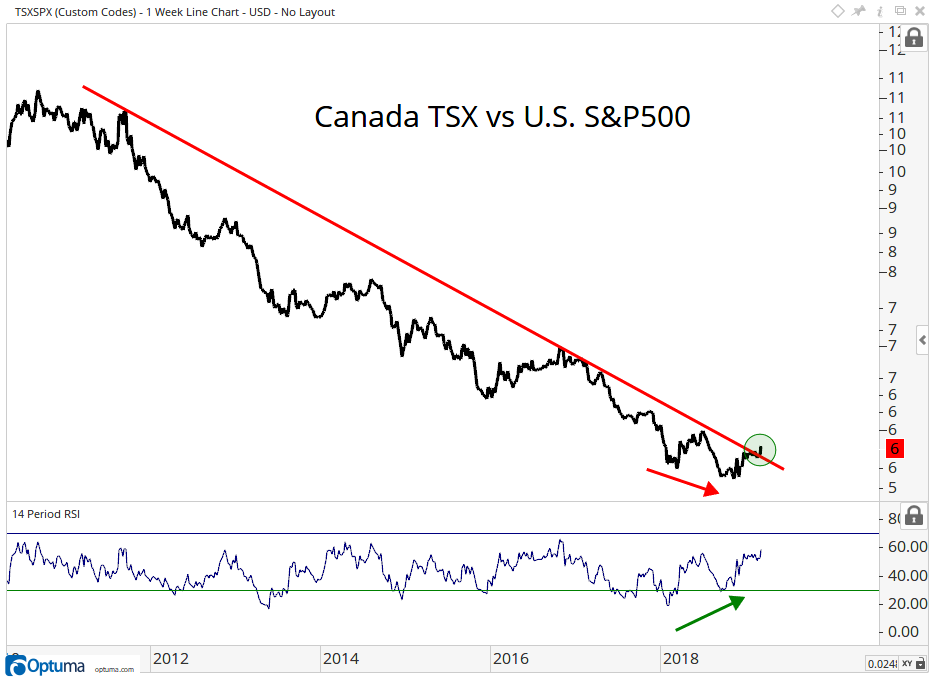 There are two things I see going on here.
First, prices have broken the downtrend in place since 2011. That's when precious metals and emerging markets peaked.
Second, with lower lows in the ratio in the fourth quarter of 2018, momentum was putting in higher lows. That sort of bullish divergence gets my attention, especially with the relative strength breaking out to new seven-month highs.
I've been pointing to this positive divergence between emerging markets ("3 Strong Pieces of Evidence for the Bulls," Feb. 13, Big Market Trends) and U.S. stocks all year.
I think it makes sense that if emerging markets are going to outperform, and precious metals are going higher ("Is Now Finally the Time to Buy Gold?" Feb. 6, Big Market Trends), then Canadian stocks outperforming the U.S. fits perfectly within that environment.
Canada's heavier exposure to natural resource-related stocks should do well, particularly relative to stock markets with more exposure elsewhere, like technology.
This is a ratio we're watching closely.
A weaker U.S. dollar would also make sense in this environment, something we've touched on all year.
We'll see how this plays out, but I just wanted to share this chart of Canada and the U.S. that stood out to me this week.
The 2000s: A Review
I don't normally do media reviews here, but I have to take a few moments today to do just that.
I just finished watching "The 2000s," episode 6, on Netflix about the 2008 financial crisis. And I have to say it's unwatchable.
I was there. The greed and irresponsibility of "home flippers" was just as bad (if not worse) than anything on Wall Street. People love blaming anyone but themselves.
The entire conversation blames the banks. It irresponsibly ignores the regulators who allowed it (and encouraged home buying) and people who bought into "God made a limited amount of land" bull.
I'm from Miami and worked in New York in 2008. I had a front-row seat. This doc gets it wrong.
If you're not into bad documentaries, my favorite sources on the 2008 crisis are these three books: "And Then the Roof Caved In," by David Faber; "Bailout Nation," by Barry Ritholtz; and "A Colossal Failure of Common Sense," by Lawrence McDonald.
To wise investing,
J.C. Parets
Editor, Big Market Trends