As promised, today I want to take a deeper dive into what I talked about at our recent Chart Summit in Breckenridge.
You can watch my entire video presentation here. It's my latest "Top/Down View of the Financial Markets."
This is where I rip through as many charts as I can in the allotted time, while speaking long enough on each to make the ideas worthwhile.
This time around, we talked about more than 100 charts in 45 minutes.
If you don't feel like going through them ALL, here's a few of the big themes, starting with the U.S. dollar.
Specifically, will the dollar roll over from current levels? We've talked about this here since the start of this year.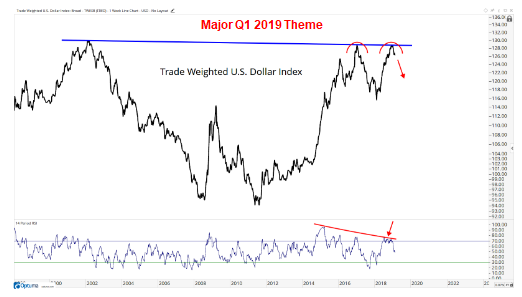 A weaker U.S. dollar may bode well for emerging markets and I see an interesting divergence between the Emerging Markets ETF (NYSEArca: EEM) and the S&P 500 — during four key lows over the last two decades.
RELATED: 3 Strong Pieces of Evidence for the Bulls
Each time we saw emerging markets make a higher low as the S&P 500 made a lower low. That's a signal that indicates improving risk appetite for equities.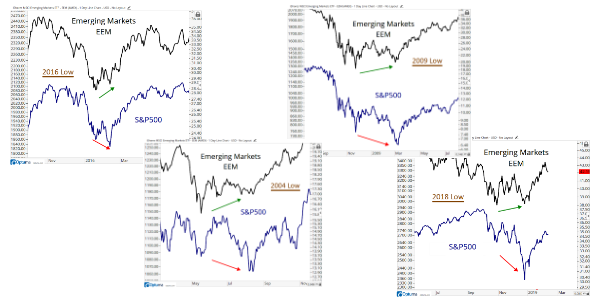 Looking at a few international equity indices…
It's hard to make the bear case if the London FTSE 100 is above its 2000, 2007, and 2014 highs.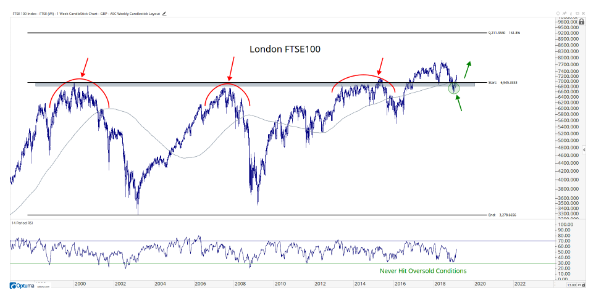 Market breadth continues to be a hot topic given the market's aggressive rally off the December lows. I showed the NYSE Common Stock-Only Advance-Decline Line hitting all-time highs, which is one data point suggesting strong market internals.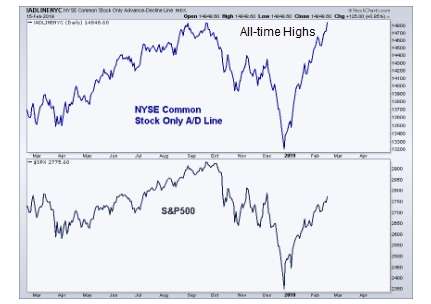 What can continue to fuel this rally to the upside you might ask? Cash, and a lot of it.
This Bank of America Fund Manager Survey indicates that the percentage of its participants who were overweight cash is the highest it's been since January 2009.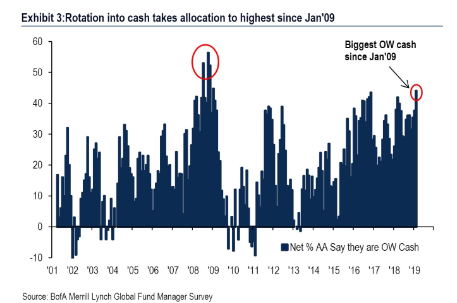 Last but not least, no presentation would be complete without a chart of Palladium (NYSEArca: PALL).
This has been and continues to be the leader in the precious metals space. What a trend since 2016: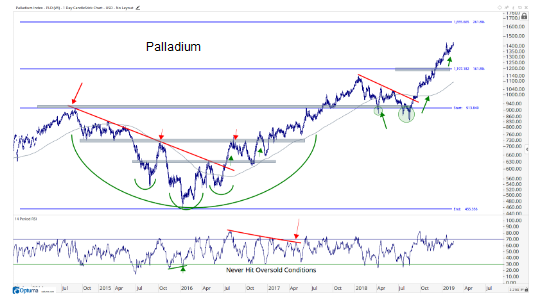 Again, you catch watch my entire presentation here to get my thoughts on 100 more charts.
The Mail
Before I go, I want to answer another reader question that came in recently.
Ken D. wrote:
J.C.
I have 17-year-old twin sons, both are pitchers and seniors in high school. One has committed to play at Wheaton College near Chicago, Illinois (D3), the other to Whitman College in Walla Walla, Washington (D3). 
One of them says he wants to study economics in college and is interested in investing. What book would you recommend that he read?
I have given him William O'Neil's book "How To Make Money In Stocks."
Thanks, Ken, for the note, and best of luck to your sons.
As far as books go, I prefer John Murphy's "Technical Analysis of Financial Markets."
And then I suggest reading all the "Market Wizards" books by Jack Schwager, starting with the first one.
Have a question or comment for me? Send me an email at bigmarkettrends@charlesstreetresearch.com.
To wise investing,
J.C. Parets
Editor, Big Market Trends