One of the most valuable parts of my entire process is going through my workbook of monthly charts at the end of each month.
It's easy to get lost in the daily noise, but this exercise forces me to identify the direction of the primary trend.
And, during my review, there are always a few trends that stand out.
Today I want to point out what's happening in America's largest sector: tech.
This is a chart of the Technology Index Fund (NYSEArca: XLK) successfully retesting those March 2000 highs and trying to rip higher: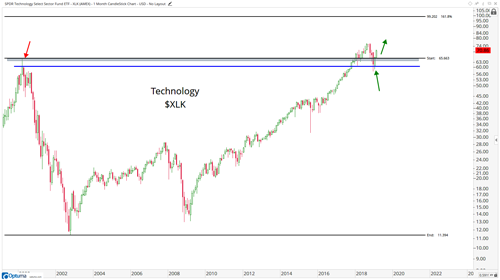 The question coming into 2019 was whether tech's performance last year was an epic failed breakout, or just a successful retest of the March 2000 highs.
If it's the latter, then we're talking about a historic upside resolution after 18 years of nothing.
The weight of the evidence suggests to me that's exactly what is happening here. Remember, I wrote last week about how strong tech looked, especially when you take the noisy FAANG stocks out the equation.
RELATED: Look Past the FAANGs
So the way I see it, if this is the start of a new leg higher in tech, stocks are in for an environment of rising prices.
If we're above $66 in XLK, it's hard for me to make a very bearish case for equities.
Bears, come talk to me if this breakout fails. I don't think the probabilities are on your side.
We want to be buyers.
Noting a Few Near-Term Risks
While we watch tech's long-term trend, we're also paying attention to a few other near-term risk trends.
Take crude oil.
It is currently consolidating above our mean reversion price target of $55.25, but remains below a downward-sloping 200-day moving average with momentum in a bearish range.
A break back below support would confirm a failed breakout and the continuation of the primary trend, which is lower. Given the positive correlation between crude and stocks since October, that would likely be a headwind for the overall market.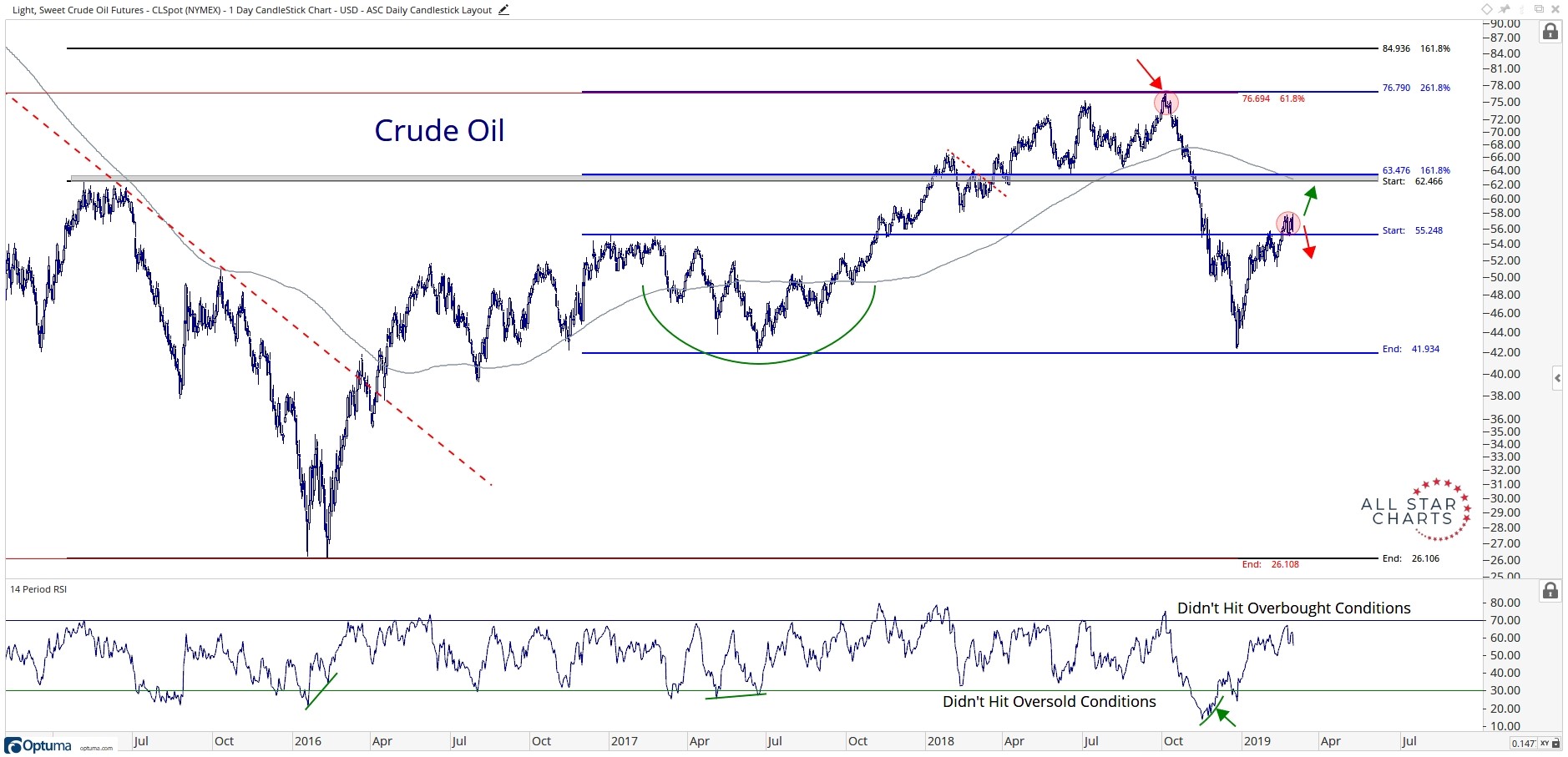 Another thing that complicates the current environment is the bond market, which recently confirmed a failed breakout and bearish momentum divergence.
I'm in the camp that this means to expect a more choppy, range-bound environment for rates.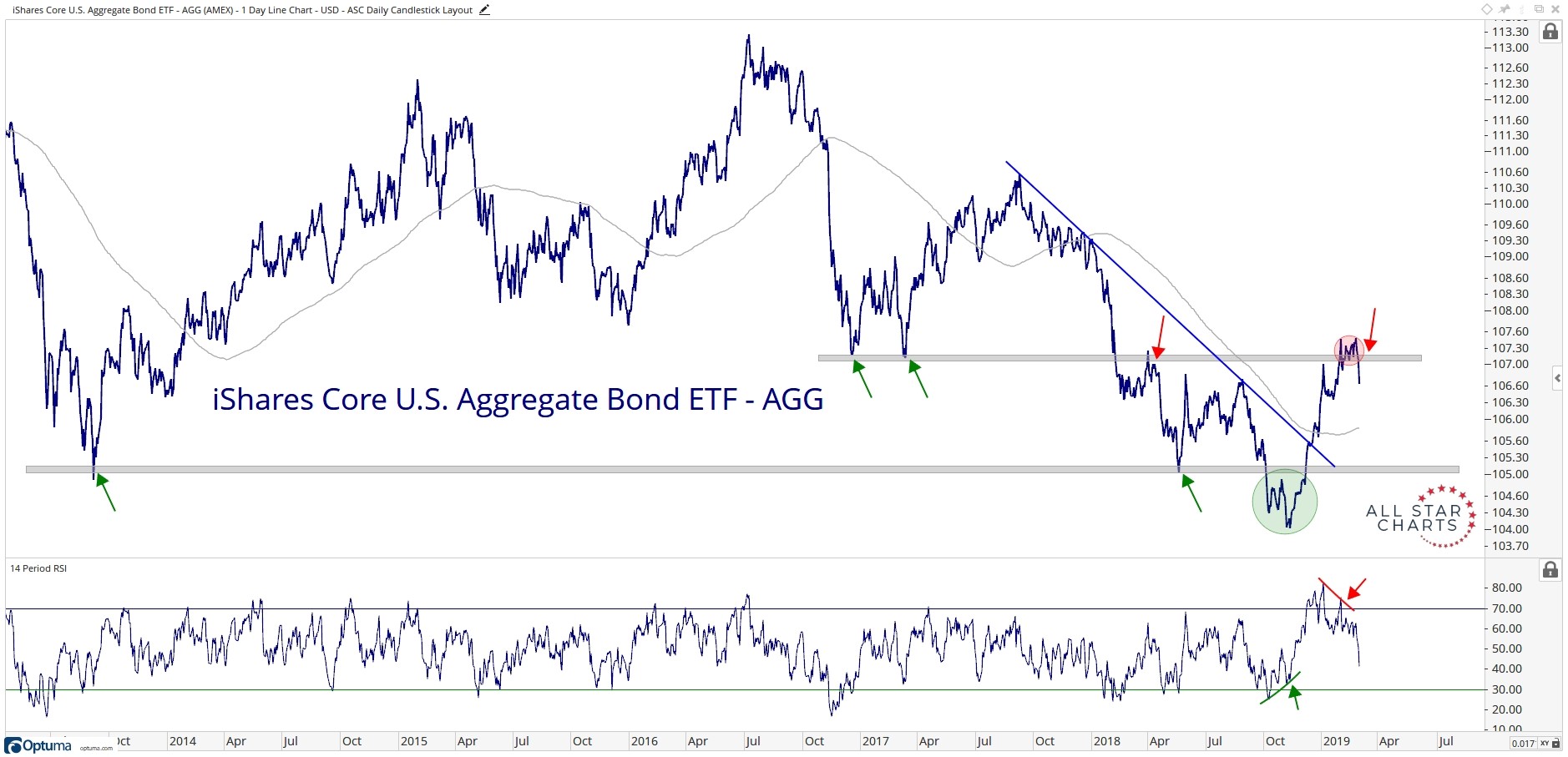 Additionally, some of the most important markets in the world, like the German DAX, are nearing their mean reversion targets.
While they may be able to squeeze out a bit more upside, they're still below key support and a downward-sloping 200-day moving average with momentum in a bearish range.
If sellers are going to step in, it's likely going to be at current levels.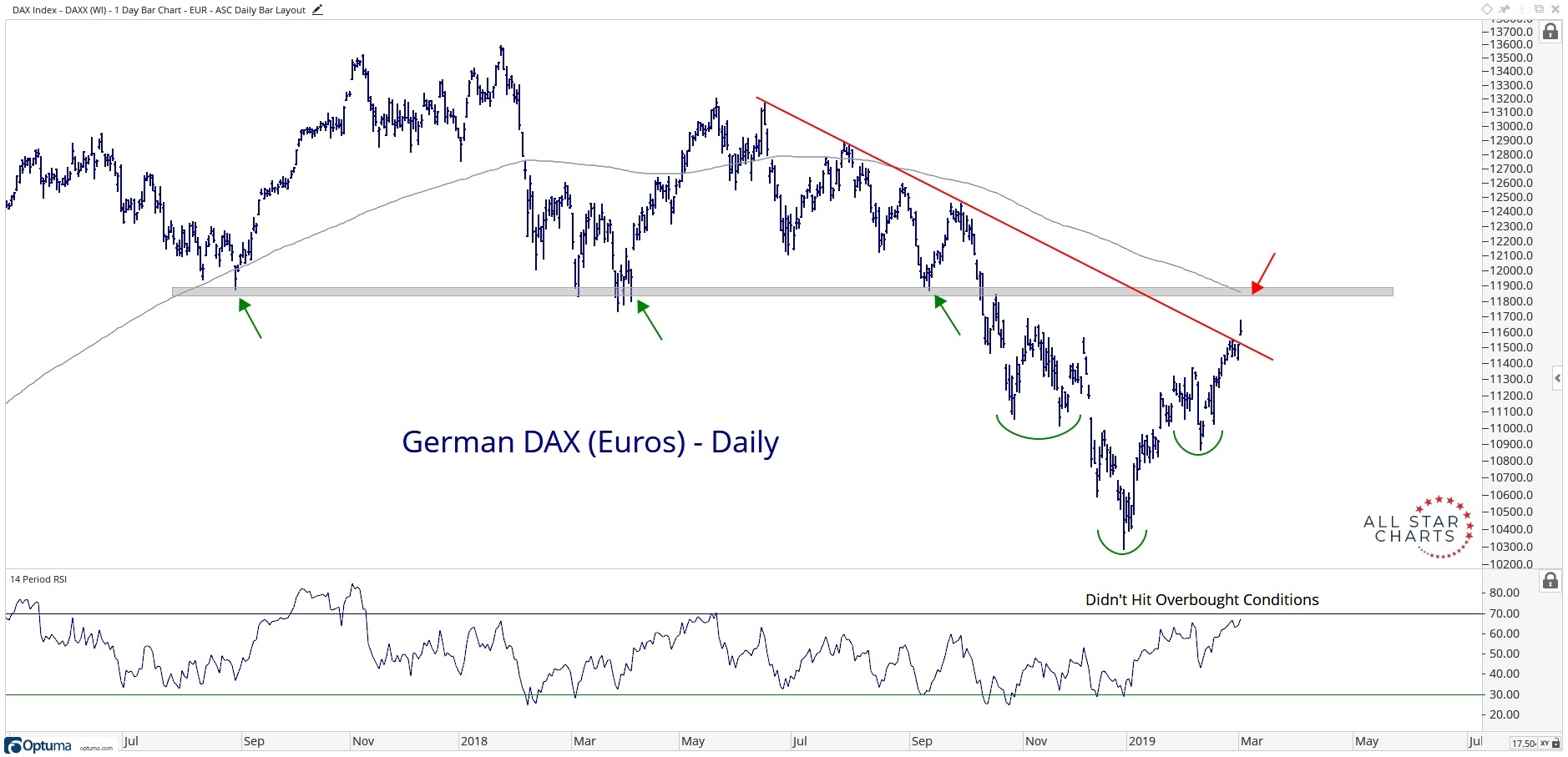 Even emerging markets, which led us off the lows in the fourth quarter of 2018, are facing some headwinds.
Prices are struggling to stay above the 38.2% retracement of their 2018 decline and momentum is making a lower high after not getting overbought during the recent rally.
Again, if sellers are going to step in, here would be a logical level.
I still don't see any reasons to be aggressively short over the intermediate or long term, but I am seeing some risks that could put a damper on risk appetite in the short term.
Whether these developments work themselves out through time or price remains the question, but it's tough to be a buyer of equities at the index level right now.
I'm still of the belief that there are plenty of long opportunities in individual names. That's why I've added them to the Breakout Profits portfolio the last two months.
To wise investing,
J.C. Parets
Editor, Big Market Trends