If there is any group out there that's feeling frustration, it's the gold bugs.
Gold is at the same price today that it was a year ago, five years ago, and eight years ago.
Over that same time, the S&P 500 has more than doubled. The Dow Jones Industrial Average is up more than 14,000 points, also more than doubling during this period.
Even U.S. Treasury Bonds made money as interest rates collapsed. The iShares Barclays 20+ Year Treasury Bond ETF (Nasdaq: TLT) was up over 60% before retracing some of that over the past couple of years. But it's still up substantially and clearly outperforming precious metals.
You could have literally been in anything other than these commodities and made money. But from epic frustration comes secular periods for profit.
I think that's what we have now: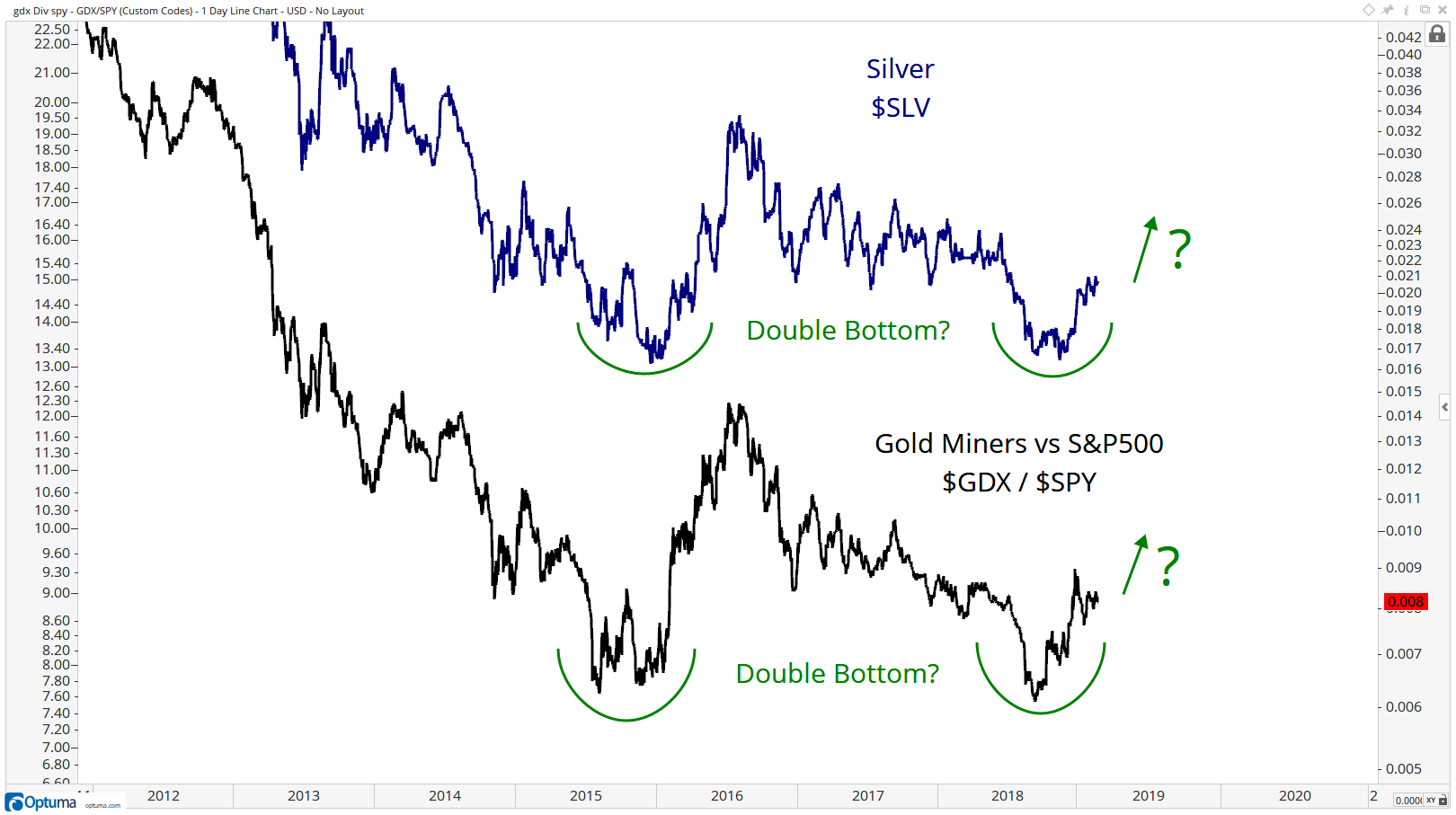 In this chart, we're looking at a couple of potentially historic double bottoms.
Up top we have the iShares Silver Trust (NYSEArca: SLV) finding support near its late 2015 lows.
Down below we see the VanEck Vectors Gold Miners ETF (NYSEArca: GDX) versus the S&P 500.
In other words, this is the relative strength chart for gold miners. Like silver, the ratio is finding support near its 2015 bottom.
I think it's interesting that they're happening simultaneously. These charts look the same to me. We've been bullish precious metals since early October and even throughout January.
I wrote to you first about the trend in gold a few weeks ago ("Is Now Finally the Time to Buy Gold?" Feb. 6).
I recognize that this is not a new trend, but I do think it's important to note that we've gone from just a trade to potentially something more secular happening.
Watch gold!
Fireside Chat
Let me tell you something about our old friend, Howard Lindzon. He's always been there for me.
He's the founder of StockTwits and wrote to you here in Big Market Trends before I did.
And way back when, in 2010, he welcomed me into his network of bloggers. Many of these are still around today and doing better than ever.
Howard has invested in some of my ventures over the years and I've invested in a few of his. He keeps me posted on developments in the private markets and I keep him up to speed on public markets.
Last week at the Chart Summit in Breckenridge, Colorado, I had the opportunity to sit down and have a fireside chat with Howard.
We discuss what he likes to call "Chart Art," and we also talk about some of the biggest trends he's seeing in finance and technology.
Although this was a technical analysis conference, I think getting to pick the brain of a master VC about the tools we're using, or will be using, adds value.
I hope you enjoy this talk as much as I did. Click here to listen.
Thank You
I tweeted this out yesterday, but I wanted to share the sentiment again.
One of the most valuable tools I've found is to share with you, the readers and subscribers, what I'm thinking, be it through Twitter, this newsletter, podcast or video.
I take the feedback from you about whether you agree with me or think I'm crazy, and I test it.
It has turned into a valuable part of my process, so keep it coming. Our address here is bigmarkettrends@charlesstreetresearch.com.
That does it for this week.
To wise investing,
J.C. Parets
Editor, Big Market Trends