Chart Summit 2019 is in the books. This is the first time I've ever hosted a live financial conference. The last two Summits were 100% virtual.
I'm not exactly a "conference thrower" and neither was my co-host Brian Shannon.
Somehow everything worked out and we had an incredible few days up in beautiful Breckenridge, Colorado.
Brian and I love skiing and analyzing charts. As it turns out, there are a lot of other people like that too.
I'll be sharing more video from the conference soon, but today I wanted to share some of the highlights.
On Day 1, a bunch of us took a Cat up the mountain all day. This is the machine that drove us up to 4,000 acres of fresh powder: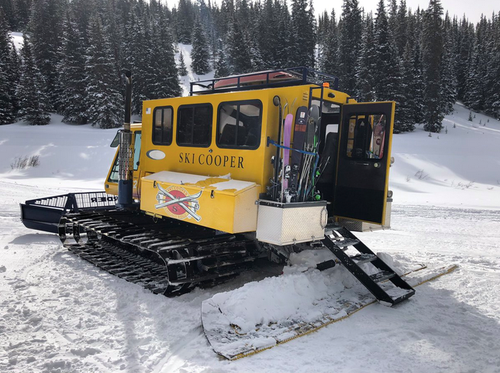 Here we are at 12,000-plus feet of elevation: Brian Shannon, me, Jon Najarian, Todd Gordon, Dan Mirkin and Steve Gomez.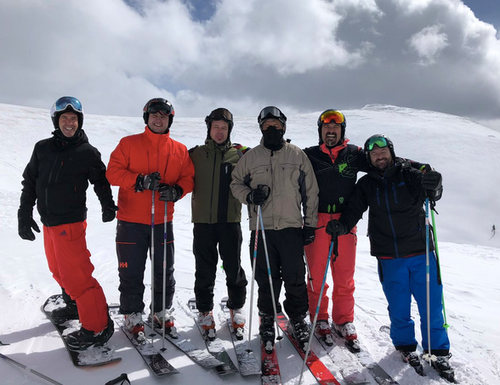 After crushing it on the slopes for two days, the presentations got started on Friday afternoon.
Here's Todd giving my favorite presentation of the entire event, where he made comparisons between ski racing and trading. I thought this was very well done and made a ton of sense.
I gave a presentation on the top/down approach to the financial markets technical analysis, which I'll share here this week. My colleague Tom Bruni also put on an amazing presentation about market breadth.
And we started out Day 2 of presentations with a fireside chat with Howard about finding trends.
As good as the presentations were, what makes this all worth it is the networking in between speaker sessions and in the evening afterwards. We had a lot of fun.
I always said that if I ever hosted a financial conference that I only had two requests:
Must be open bar the entire time
We're only playing 90s hip hop
Mission accomplished!
Even after days of skiing, late nights at the local pub and a ton of presentations, we had a packed house until the end.
Stay tuned for more of what went down in Colorado, and I'm already looking ahead to Chart Summit 2020.
A Chat with Andrew Adams
Before I go, I want to share another recent conversation I had, prior to the Chart Summit, with Andrew Adams.
He's a CMT and CFA and is well known for his morning market commentary to thousands of financial advisors at Raymond James for many years.
After working alongside legendary strategist Jeff Saut, Andrew has just started 2019 wearing his new trader hat.
He's wanted to go out on his own and trade full time and he has finally made that move, and he explained why.
"I enjoy trading the markets, more than anything else, more than writing about the markets or talking about markets, I really just love being in front of a screen and putting my money where my mouth is," he told me.
"In my role at Raymond James… there's almost nothing you can do without jumping through 10 different hoops and getting approvals from five different people.
"I'm more of a trader than an investor. That was a conflict always at Raymond James. We're trying to preach to retail clients the benefits of long-term investing and diversification and being in it for the long run, and I'm just looking for opportunities that I see here and now. And if it doesn't want to work out, I want to get out very quickly for a very small loss."
Sounds familiar.
During this conversation, Andrew tells us about his experiences at Raymond James, working with Saut, earning both his CFA and CMT designations, and now using this body of knowledge to enter the trading world full time.
I also asked Andrew about what he was seeing in U.S. stocks, emerging markets, U.S. interest rates and precious metals. I really enjoyed this conversation with someone who is new to social trading scene.
Make sure to follow him @DayTraderGator and give him a big welcome!
Have a great week.
To wise investing,
J.C. Parets
Editor, Big Market Trends